Affordable Custom Framing
We bet you have a flat file under the bed or a mailing tube in the back of your closet that holds a piece of unframed artwork that has been on the back of your mind for months or possibly even years! This project may seem tedious to some, overwhelming to others…for us it's a walk in the park. With an education in commercial/graphics arts and 13 years experience owning and opperating a retail store, we have the skills and know how not found in the big chain stores. 
Let Beveled Edge Framing be your personal art directors. We can guide you in the decision making process by teaching you the how's and why's of custom picture framing. There is a right way to blend your new art piece into your existing repertoire. We will explain that process simply, thoroughly, and best of all in a way that will fit into your budget. Let our skilled and friendly staff prove to you that custom framing is affordable.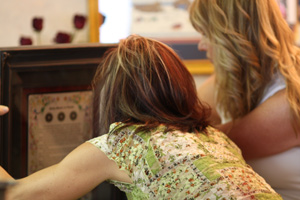 Beveled Edge Framing
80 West Center St
Springville, UT, 84663
801-491-8995